by Sanchia
If you've been following my posts then you'll already have spotted today's NOTD in my most recent
Can't Live Without
review. I decided to take another stab at the design today because my first effort was pretty bad!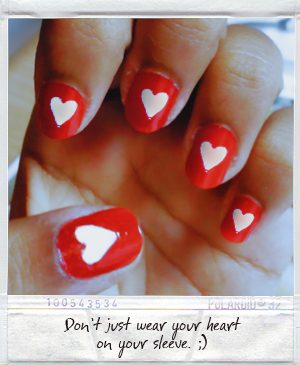 Snow White (£5) and Red Alert (£5), both by Models Own
Once I'd done the red base coat, I cut the heart shape out of a piece of paper, stuck my paper "stencil" to my nail with tape, painted over the heart-shaped gap with the white varnish, and then left it to dry before removing the paper. (If you get any residual paper stuck to the nail, it should come off after you've washed your hands.)

I had to do a slightly smaller version for my little finger, and a bigger one for my thumb, but I'm really getting into this stencil thing! It makes it practically impossible to mess up my right hand.
Remember, you can leave a comment below, e-mail me (see the sidebar for the address), or tweet me
@wakeorsleep
if you want to get in touch!
Love Sanchia xxx