by Sanchia
The best thing about the USA is that (almost) everything is cheaper over there – so obviously being the savvy shopper that I am *cough cough*, I couldn't resist picking up a few treats for myself in Florida!
Lush has only just opened stateside, but the dollar-to-pound rate means that everything over there is an absolute steal. I bought myself a tub of their gorgeous sea salt scrub: it's called 'Ocean Salt', it's this gorgeously serene blue (as you can see in the picture), and it's definitely the most refreshing grit-like substance I've ever put on my face!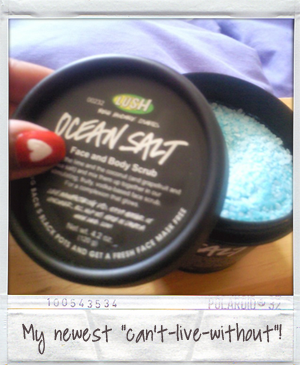 They've put lime, coconut and grapefruit in as well, but it's 50% sea salt (or so I'm told by the Lush shop assistants). I don't know about you but I am definitely not a morning person – but if this scrub doesn't wake you up and refresh you, nothing will!
The second thing I bought was the 'Buffy' bar, with cocoa and shea butter. This is actually the miracle scrub bar – after you've finished using it in the shower, you don't need to use moisturiser because it's done the job for you! I wax my legs so I'm always looking for a good exfoliater, and I'm so glad I've finally found one I can stick with.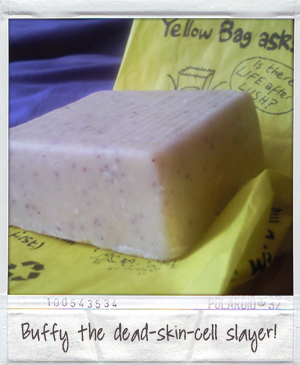 The best thing about these two products is that they don't have an overpowering scent that will clash with your other beauty products or perfume, so you can use them as much as you want. Also, Lush don't test on animals and they only use natural products, so you can shop guilt-free! Well, almost. (But really, what's the point of an airport departure lounge if not for the shopping?!)
Do you have any recommendations from your Lush product stash? You can leave a comment below, e-mail me (see the sidebar for the address), or tweet me
@wakeorsleep
if you want to get in touch.
Love Sanchia xxx