If you've been following our blog, you may remember this, from my trend focus on lace: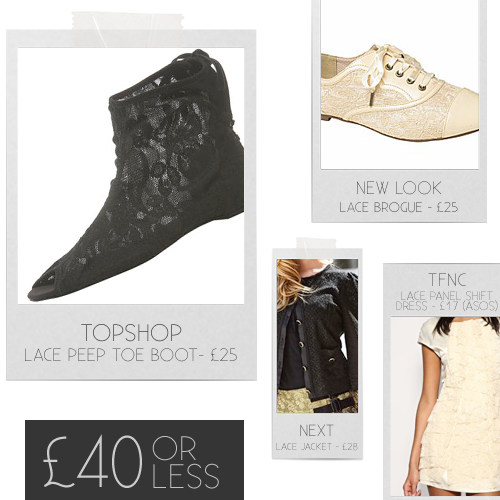 You may also remember me mentioning how much I coveted those Topshop lace shoe boots (see above, they're black) – but in the end, I decided to stay away for my own good, and save the £28 for something else!
Anyway, today I wandered into the Topshop sale with my friend Naomi to help her find some (quote) "nice but not trashy" leggings, and came across these beauties again ...
... reduced to £15! It was a sign. And now, they're mine. Ah, the world is all poetry and roses!
I am very much in love with these: they're the most unique, beautiful boots I think I've ever seen, and my heart does all kinds of funny flips when I look at them. (Should I be worried by this?) I know they're not everybody's cup of tea, judging by Naomi's determined silence while I was trying them on (haha!), but that only makes me happier because I'm less likely to look like other girls walking down the street! I was going to wear them today, but sadly the heavens seemed to have opened on Norfolk. I'll be back with my OOTD in the evening – off to the cinema now.
Love Sanchia xxx