by Sanchia
Sometimes I love the universe.
A while ago I turned 18, and the first thing I thought of doing that would fully assert my status as an adult in this world was to ... enter a competition on the
ELLE website
!
(Yeah, I know. I like to dream big.)
Anyway, hell froze over and I somehow got lucky and won £500 to spend in Full Circle. I STILL CANNOT BELIEVE IT. But before the squeeing begins, a little background:
Full Circle
is a British high-street chain (you can find their flagship store in Covent Garden) which opened in the late nineties, selling "fashion with a typically quirky, British edge" – according to them, at least.
I actually found it quite hard to decide what to get – it's not the kind of shop I'd usually buy from, and although £500 is a lot of money, Full Circle has pretty high-priced stock compared to my usual student haunts! But eventually I managed to pick out eight items, with the help of the lovely Danielle Wilson from their marketing department, and my final few pieces arrived yesterday in the post.
(This is going to be a two-part post so that I don't take over the whole front page, so today I'm only going to talk about four of those items.)
Firstly, the "Columba bodice sequin t-shirt", which looks like this: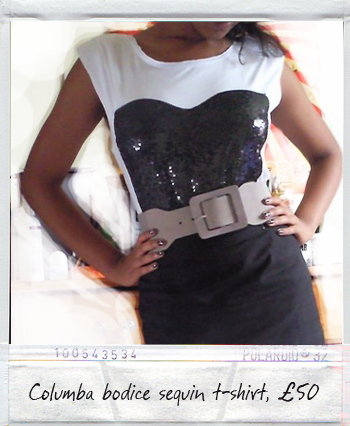 I just adore this tee! I've only had it for a few days and I've worn it twice already. It's 100% viscose so it feels absolutely weightless on your skin, and it's not at all itchy or irritating as viscose can sometimes get. Also, the black sequin pattern means you don't have to worry about your bra showing through! But what I loved about this t-shirt the most was that the shoulders are slightly padded – so Balmain! – so your figure and posture look much better than usual. I've worn it to dinner with a pencil skirt (like in the picture) and also after a house party with black jeans, and it worked really well for both. The only downside is that it's dry-clean only, but I don't really mind because it's just so versatile! :D
Moving on now to the "Fisk v-neck cardigan":
I'm feeling kinda smug about this one too! The cardigan is a gorgeously soft, light, half-silk half-cotton mix. It's slightly cropped, and the sleeves fit around your elbows and then puff out towards the shoulders. It's unbelievably flattering and can be worn with just about any top – it's a loose fit so it'll go snugly over anything with frills/ padded shoulders/ ruffles/ etc. The thinness of the fabric makes me think it was designed to be layered, and I can just tell that I'm going to be living in this come Autumn!
Thirdly, the "Yoshi zip-sleeve top":
I'm slightly at a loss here. I've been staring at this top for the last three days, and it's been staring straight back at me with this stubborn, defiant air, like it's daring me to wear it without transforming myself into some horrific reincarnation of either Sandy from Grease or the leggy blonde from the 80s version of Footloose.
Eeek.
In my head I know it's supposed to be part of something grunge-rock, but that's really not me and I don't have the wardrobe to pull that look off! So until I am enlightened (any advice, fashionistas?) it's staying safely in my bottom drawer ...
And finally, we've got the "Encore sharkfin-shoulder blazer":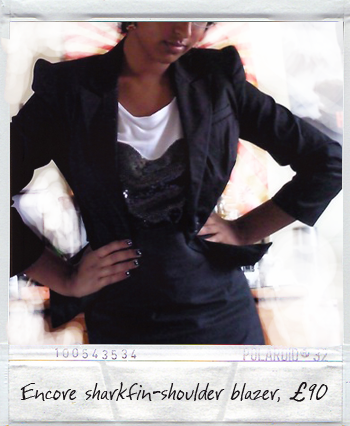 I think this is the closest I'm ever going to get to owning a Balmain blazer, short of splashing out on the real deal. Sharp shoulders, cropped sleeves, good material, a snug fit and one button ... oh Encore blazer, I love you with all my heart! This blazer makes anything look good – honestly, anything – and I'll prove it to you in my next post. so stay tuned!


Remember, you can leave a comment below, e-mail me (see the sidebar for the address), or tweet me
@wakeorsleep
if you want to get in touch.
Love Sanchia xxx
P.S. Apologies for the photo backgrounds, my room is an absolute tip so I had to do a bit of concealer work on the polaroids! :D