Took a quick trip to Boots today to pick up a few essentials, and as usual I found myself by the make-up counters, looking at some highly non-essential products!
Anyway, I took advantage of the 2 for £8 offer to buy a Models Own lip balm:
This is actually more of a lip tint than a balm (it's halfway between a lipstick and a lip gloss: not as pigmented as the former and not as shiny as the latter). They have a gorgeous coral shade called
Tangerine
, but I went for the darkest pink,
Blackberry
: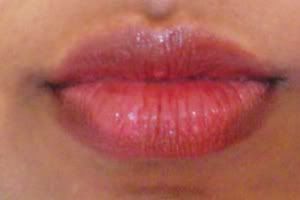 This is fairly close to my natural lip colour, but it gives my lips a very subtle "just-bitten" pinky-purple sheen. Although it looks really scary in the pot, the colour is buildable – I've swatched it on my hand so you can see:
I really like the texture of this, and my lips feel really moisturised! This could very well turn into a Can't Live Without product in the next few days ...
xxx