Took a quick trip down to John Lewis today with the parents, wearing this:
Stupid poses and no make-up! That's just how I roll ... ;)
Top
: £9.90, Mango
Skirt
: £15, Dorothy Perkins
Belt
: $19 = about £11, New York
Shoes
: €15 = about £10, Barcelona
Hair slide & ring
: £1.50 each, The Clothes Show
Knitwear in summer may seem a bit excessive, but I found this grey jumper in the summer sales and it is so light! Perfect for layering – finding all these great new season buys makes me so impatient for Autumn ... sigh.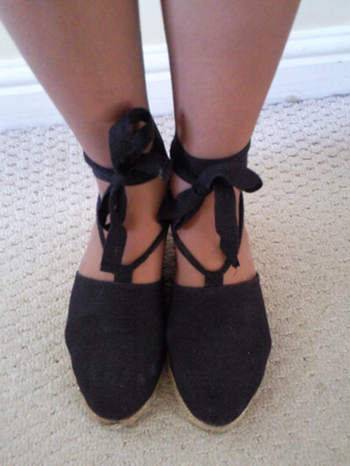 I haven't worn these espadrilles for a while, but for the last few summers they have been my absolute favourite shoes. I picked them up on a family holiday to Barcelona (one of the most amazing cities in the world, if you love fashion or you just love life, then you need to go!) – they were handmade, and some of the stitching is a little loose because I've worn them into the ground. When they finally give up the ghost, I'm going to be on a plane or train straight back to get a new pair; they're just too versatile to lose!
I haven't had a haircut in an absolute age (next appointment is August 18th: you'll be the first to know what I think!) and I just can't be bothered to deal with it in the summer, so it's either pulled back with a big hair grip or in a ponytail usually. But today I found the September 2009 issue of ELLE which was full of big, messy plaits, so I thought I'd have a go ...
Let me know if you think it works!
Love Sanchia xxx