Hey everyone! Just got a quick CLW review for you today, but look out for a website review and another AW 10/11 Trend Focus report coming soon ...
Today's product is the Rimmel Glam'Eyes Professional Liquid Liner. This is the one that you've seen in ad campaigns featuring Kate Moss, where she's always telling you to "get the London look!", and staring at you with those gorgeous feline eyes ... Jealous? Me? Not in the slightest.
*COUGH*
I use liquid eyeliner more or less everyday – it's definitely a desert island must-have for me, so I've spent years and years looking for one that I can rely on and that won't break the bank. A couple of years ago, I finally settled on two different makes which (on the whole) solve all my problems for me – one of which is this Rimmel liner:
The main selling point for me is the brush. I know most people now prefer a felt tip, but I'm completely attached to my brush tip! It's so versatile and fine that I can create almost any kind of line with it, the wand is the perfect length to get you nice and close to the lash line, and the handle is elongated so you can get a nice firm grip (which makes for a perfectly smooth line).
As for the liner itself, it's thin enough to go on easily and it's easy to remove and correct if you make a mistake. It can last through ten-hour days with ease, and sometimes will even stay on perfectly overnight if I forget to take my make-up off! The only drawback I can think of is that it isn't waterproof, which isn't really a problem for me!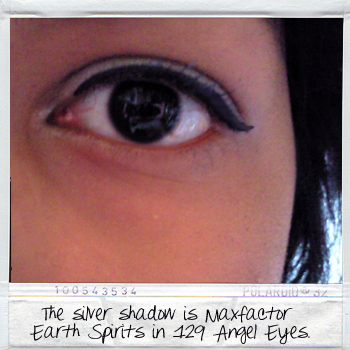 My shade is 001 Black Glamour, which is your standard black, but they also make it in Diamond Kiss (silver), Intense Plum (a gorgeous purple) and Precious Green (kind of a pistachio green), all of which look great on brown eyes. And here's the best part: you can pick one up for £3.99 a pop at Superdrug, which I think is an absolute steal!
Hope that was useful for any fellow liner addicts out there! And before I go, thanks to everybody who follows this blog or just checks up on us from time to time! We always love reading your comments and it's nice to know that other people are getting something (however small!) out of the blog. :)