by Sanchia
If you don't know who Karen Gillan is by now, then ask your boyfriend, because I bet that he does! She's the newest redhead to join the Doctor Who cast – although recently I've noticed her acting less and her style sense a lot more:

Everytime I look at this outfit, I feel nothing but love! Since this is a red-carpet event, she's gone for metallics with her jacket, skirt and shoes, but by keeping the whole palette neutral she doesn't go overboard on glamour. The barely-there silk top not only looks classy but won't distract you from DVF's beautiful cuts! I also love her hot pink nail and lip colour: it shows that she's not too bothered about clashing with her hair (which I could practically write a whole separate post about – it's such a gorgeous colour).
Here she is again at a slightly lower-profile event, but still looking great: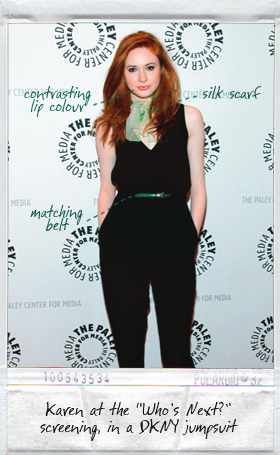 I think the green accents on the scarf and belt look amazing with her red hair in this photo! Again she's gone for a contrasting lip colour to mix it up a bit, and I bet if we could see her nails they'd be hot pink too. The jumpsuit itself is very flattering, with a slightly loose cut and in classic black, and although she's slouching, it's still pretty classy!
According to her interview with Cosmopolitan magazine, Karen's style is based on "loads of seventies and sixties kind of stuff. And I really like Alexa Chung's style - she's so effortless and cool and so not-try-hard."
I'm going to be keeping an eye on this one in the future!
Love Sanchia xxx
P.S. If you want to get in touch, you can leave a comment below, e-mail me (see the sidebar for the address), or tweet me
@wakeorsleep
. :)