by Sanchia
"Ah, Lace. So we meet again ..."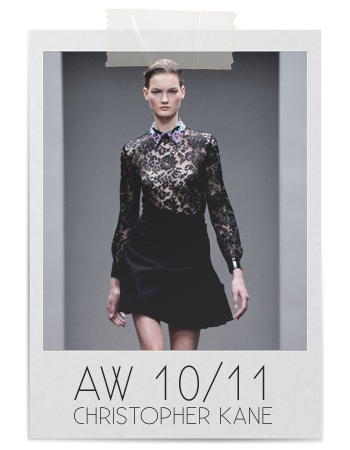 Word on the catwalk: lace will be HUGE next season! I thought I'd write this post because I (brace yourself) hate lace with a passion, and since it's still firmly on the fashion radar, I thought it was about time I embraced it.
Ugh.
We first started seeing lace way, waaaay back in AW 08/09, when Miuccia Prada decided that it would be interesting to see if she could base an entire collection on a material that she (at the time) just couldn't stand.
But I've got to admit, the collection was more than just "interesting" – it was feminine, luxurious and seductive, and yet prim and stiff at the same time; it reminded me of forbidden love in a gothic novel. Back then the trend didn't really filter through past the couture houses ... but it resurfaced for SS 2010, a
nd it hasn't stopped there! The L-word is a huge feature in some of the biggest new season collections: Valentino, Burberry Prorsum (damn you, Christopher Bailey!), Givenchy and Christopher Kane, to name but a few.
I think it's got to the point now where I just cannot dig my heels in and ignore it any longer! So I've been doing a little internet shopping to see how I can try the trend by adding just a couple of key pieces here and there ...
Although I do need a new sweater, out of the above I think I'd go for the Topshop ankle socks! Anyone who knows me will tell you that I am absolutely obsessed with socks and tights (if you are too, check out
this
post by Sarah Williams), so no doubt I'll fall in love with them (and lace in general) on sight.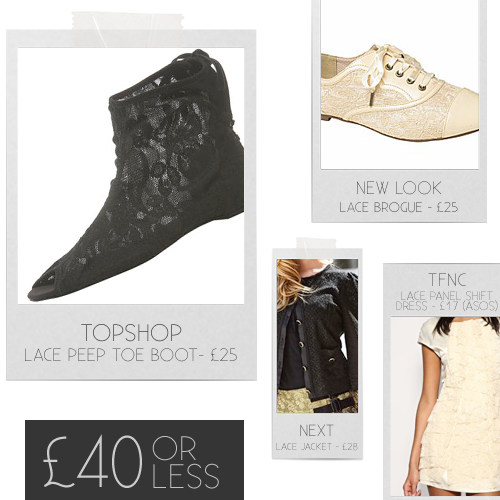 Oh gosh. The brogues. Are beautiful. Sadly they're white, and I don't know how long they'll last on a wet English street. While I love the peep-toe boots so much more, I think I'll regret them too the moment it rains, which I imagine is going to happen pretty often come November! But having said that, both pairs are very reasonably priced, so I may just eat my words and pick up one or the other (or both?) very soon. ;) (Ooh, before I forget, the
TFNC
dress is £17 reduced from £40 in the ASOS sale, so pick it up now or you'll miss out!)
The hoodie dress is staring at me. I'm hiding my debit card, just in case. (But just so you know, it's £65 reduced from £180, also in the
ASOS
sale. See my
previous post
for evidence of my ASOS addiction if you're a fellow sufferer!) I included the
Warehouse
blouse because the lace detail is very subtle, which makes it perfect for someone like me who wants to try the trend but isn't overly keen on it – and I can reference the white shirt mini-trend while I'm at it!
If you have any recommendations for ways I can try the lace trend, please let me know! And I'd love to know if and how you're going to reference it next season.
P.S. Kudos if you managed to read that whole post! :) Have a free virtual hug: O